Congress of Young Researchers (V Congreso Jóvenes investigadores)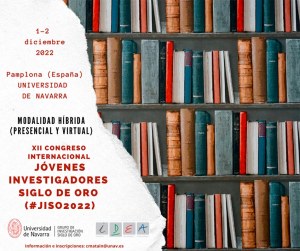 1-2 December 2022, University of Navarra-Spain

Presentation:
This event founded in the city of Valencia is aimed at pre-doctoral researchers in the field of biomedicine in Spain.
The scientific organizing committee is composed exclusively by PhD students in this field. It is therefore a congress organized by and for young researchers, who are the real executors of research projects, as they are usually their own doctoral theses. This year's congress will be held in Valencia.
The involvement of the organizing committee during the previous editions was praised by the more than 1,500 participants who attended, appreciating the quality of the event. This edition will have 300 participants and the presence of high level speakers.
Objective:
This non-profit conference requires sufficient financial liquidity to cover the various expenses necessary to hold the conference, in order to allow a greater number of students to participate and collaborate in the scientific field.
For this reason, sponsorship by companies or other associations is of vital importance and we ask for financial support to enable the celebration of this event.
The areas of the conference:
The biomedical fields covered in this symposium range from basic science to translational studies close to clinical application.
Molecular basis of the pathology

New therapeutic approaches pharmacology

Omics and bioinformatics

Reproduction and developmental biology