Flasks for protein production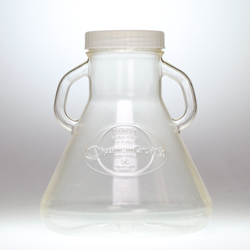 Key Features

Space Saving More Volume - Optimum Growth Flasks Give Excellent Growth with
Space Saving Capability
Baffles designed for high aeration&low shear
Same footprint as comparable Fernbach flask
Less foaming than disposable Fernbach
Transfer cap option connects directly to cell bags or bioreactors with quick connect, luer lock or tube fusing
0.2μm Vented Cap
Individually packaged and sterilized

Scalability


Thomson Optimum Growth Flasks are designed so that protein production will scale consistently across all sizes, unlike any other shake flasks on the market. Additionally, these flask features allow for consistent shake speeds from the 125mL flasks up to the 5L flasks.

Thomson Optimum Growth Flasks not only ensure consistent expression from HEK293 strains, they can also increase shaker capacity. With the same footprint as a typical competitor C 3L flask and a culture volume of up to 3L, the Optimum Growth 5L Flask may increase production 200%, if not more, in the same space.

Most constructs express at higher levels in the Optimum Growth 5L flasks. This makes one Optimum Growth 5L equivalent to, if not greater than, two 3L flasks.