3D cell culture: BIOMIMESYS hyaluronic acid scaffold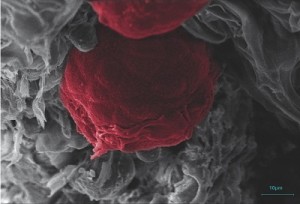 Hyaluronic Acid Scaffold for 3D Cell Culture
Bring an innovative dimension to your research with a 3D scaffold based on hyaluronic acid!
BIOMIMESYS® IS PHYSIOLOGICAL


The hyaluronic acid based scaffold ensures the most natural and physiological conditions for cell culture of many cell lines :

Highly porous for the simple extraction of RNA and proteins

Biodegradable for easy cell retrieval

Transparent for direct visualisation of cells

Representative of the cell microenvironment in terms of cell-cell interactions, cell-matrix interactions

BIOMIMESYS® IS EASY TO USE

Ready-to-use low attachment 96-well plates
Different size available : 24, 48 or 96 gels
Different format: transparent or black
Bar coded plates

BIOMIMESYS® IS COMPATIBLE WITH ALL ANALYTICAL TECHNOLOGIES

Brightfield microscopy
Fluorescence microscopy
Scanning electron microscopy
Plate readers/spectrophotometer
Flow cytometry
RNA or DNA Extraction
Protein Extraction
BIOMIMESYS® products optimized for specific Cell Lines:
BIOMIMESYS® Hepatocytes: Hyaluronic Acid (HA) + Collagen I&IV system to mimic liver cells environment.
BIOMIMESYS® Adipocytes: Hyaluronic Acid (HA) + Collagen I&VI system to mimic fat cells environment.
Protocols:
Hydrogel washing step for quantification of molecules
Retrieval of cells from BIOMYMESIS scaffold
Metabolic activity determination
Find all BIOMIMESYS Products here
For research use only