Mitochondrial assay kits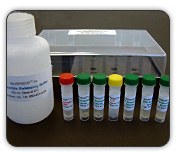 Detection of Change in Mitochondrial Transmembrane Potential by MitoCapture and Fluorescence Microscopy.
The photograph shows examples of cells scored for intact and apoptotic cells using MitoCapture probe. The apoptotic cell (left panel) shows diffused green fluorescence, whereas the normal control cell (right panel) shows punctate red fluorescence.
Ref. J. Biol. Chem. 276:35891-35899, 2001.