Caspase mediated apoptosis assay kits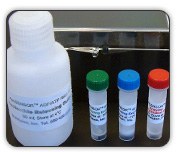 Detection of Caspase-3 Activation Using CaspGLOW Fluorescein Caspase-3 Staining Kit.
Apoptosis was induced in Jurkat cells with (B) or without (A) camptothecinfor 6 hours. Cells were collected and incubated with CaspGLOW in situ marker, FITC-DEVD-FMK, for 20 minutes according to the kit instructions. Results were analyzed by flow cytometry.