WEBINAR : How to obtain native membrane proteins for drug discovery ?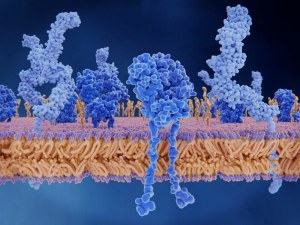 JOIN OUR WEBINAR ON DECEMBER 7TH AT 3:00 PM CET

WEBINAR
Native membrane proteins for drug discovery
JOIN OUR WEBINAR ON DECEMBER 7TH AT 3: 00 PM CET
How to obtain high-quality native, pure, stable and functional membrane protein targets compatible with all drug discovery projects ?
The key to successfully purifying membrane proteins is in the extraction/stabilization of the desired protein. CALIXAR provides purified membrane proteins that are off-the-shelf, ready for use, as well as membrane protein extraction/stabilization reagents and kits, so clients can work with the highest quality membrane proteins.
Membrane proteins are very sensitive to changes in their environment. This means that they can be easily denatured by changes in pH, temperature, salts, or other chemical environments for example. This is why CALIXAR focuses on the stabilization of membrane proteins with a formulation adapted to the application, and then can prepare and offer high-quality membrane proteins for sale.
Protein targets are congruous with all screening platforms: High Throughput Screening, NMR, SPR, Mass Spectrometry, crystallography, cryo-EM
In addition, CALIXAR provides a more immeasurable understanding of ligand/protein recognition and promotes the discovery of the mechanism of action (orthosteric vs allosteric).
CALIXAR's
membrane protein extraction reagents
are easy to use and do not require extensive knowledge. From membrane protein extraction, stabilization, isolation to crystallization, we have the membrane protein detergent / surfactant kits and technology to provide you with high-quality membrane proteins for your discovery projects.
What are Calixar's purified membrane proteins and reagents/kits ?
What do Calixar's membrane proteins allow clients to do ?
Who are Calixar's membrane proteins ideal for ?
What are some problems that Calixar's membrane proteins solve ?
What are the biggest advantages of Calixar's membrane proteins ?
Receive all answers in our Webinar