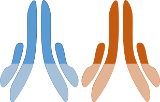 IHC detection kits - Double staining
Immunohistochemistry is a technique of histology aimed at locating a given protein in a tissue. There is also a derived technique, immunocytochemistry (ICC) which has the same principle but aims to localize a given protein in isolated cells.
It is important to choose the appropriate combination of antibodies and the correct detection system in order to obtain the best results depending on the sample and the target protein.
Double staining in immunohistochemistry (IHC) allows the detection of 2 different antigens within the same tissue. This technique can be used to visualize these 2 antigens and to analyze their interactions, their locations and their functions. In addition, double staining saves time compared to 2 simple stainings and also preserves valuable samples using less material, detection can be done on the same tissue section.
The general protocol of double-staining in IHC is based on the polymer method and uses two different enzyme complexes (mostly HRP and alkaline phosphatase) for the two antigens studied in order to obtain independent signals.