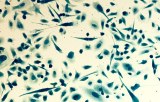 Antibiotics for cell culture
Antibiotics are commonly used in cell cultures to prevent possible contamination. This is because cell culture media contain all the elements necessary for cell growth and also provide a suitable environment for the growth of bacteria and fungi. The use of antibiotics in combination with aseptic handling conditions prevents contamination of cultures and reduces cell loss.
Antibiotics are often chemicals and sometimes polypeptides that affect the ability of bacteria to grow. Antibiotics fall into two categories: bacteriostats and bactericides. Bacteriostatic antibiotics do not kill but inhibit a vital cellular process such as cell wall synthesis or protein expression. If the bacteriostatic antibiotic is removed, bacterial growth can resume. Bactericidal antibiotics kill bacterial cells and are therefore useful in preventing and eliminating contamination.